CHANGZHOU HEWE MACHINERY TECHNOLOGY CO.LTD
CHANGZHOU HEWE MACHINERY TECHNOLOGY CO.LTD specializes in production and trading of agricultural machinery spare parts, long-term supplies to Kubota, Yanmar, World, Lovol, Zoomlion, products have been exported to Indonesia, Vietnam, Thailand, Myanmar, Malaysia, India, Egypt, Sri Lanka, Iran, etc.
Product mainly include agricultural machinery spare parts for rice harvesters, excavators, bulldozers, diesel engines, tractor,etc, various models of driving roller, guide roller, balance roller, crawler guide, and all kinds of guide wheel support, tension frame, shaft, belt pulley, bearing holder series. The products are produced and processed with casting, forging, CNC machining, welding, heat treatment, electrostatic spraying and other production processes, it is in strict accordance with industry standards .
We are looking forward to cooperation with you.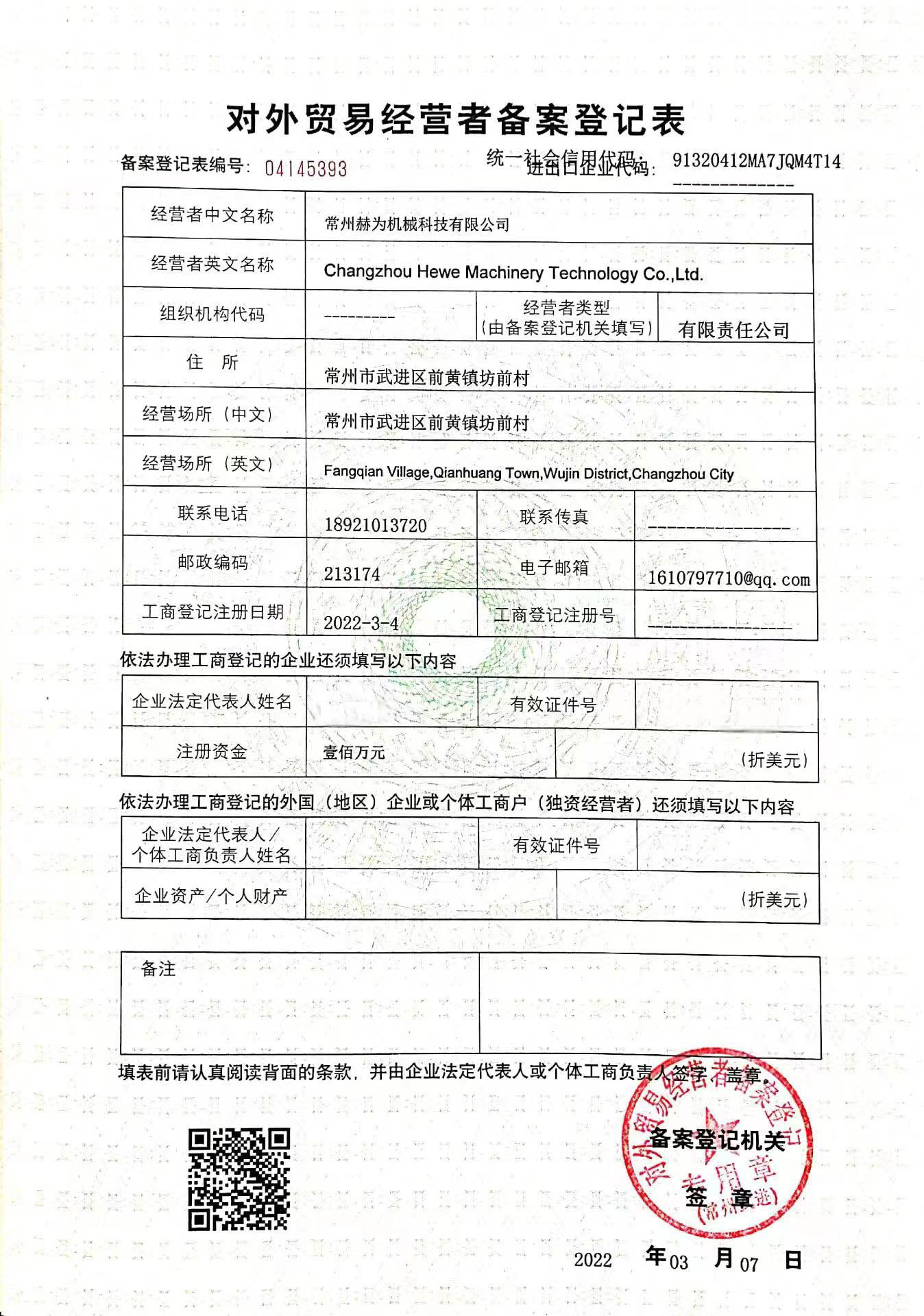 Company Official Registered Certificate
Company Registered License ID: 91320412MA7JQM4T14
Publicity System : Ministry of Commerce of the People's Republic of China.
Website: https://iecms.mofcom.gov.cn/
BANK INFORMATION
BANK NAME:
JIANGSU JIANGNAN RURAL COMMERCIAL BANK CO.,LTD
USD ACCOUNT NO. 1034000000022280
ADDRESS: NO.9 YANZHENG MIDDLE ROAD CHANGZHOU CHINA
SWIFT CODE: RCWJCNSH
BENEFICIARY NAME:
CHANGZHOU HEWE MACHINERY TECHNOLOGY CO.,LTD.
ADDRESS: QIANHUANG TOWN,WUJIN DIST.CHANGZHOU CITY,CHINA
Agricultural Machinery Spare Parts China Supplier